Matt introduces himself and how he got started in technology. Matt explains why he get involved with LaunchCode. He explains what LaunchCode is and some of the challenges that LaunchCode faces. Cecil ponders the statistic of one million programming jobs will be unfilled by 2020. Matt talks about LaunchCode getting a mention by President Obama. Cecil shares a story on the LaunchCode website of an individual that went from stocking groceries to writing software. Matt describes the typical LaunchCode student. Cecil asks about how LaunchCode's partnership with edX works.
Links
LaunchCode
LaunchCode South Florida CS50X
Tested at ChefSteps: How To Cook Amazing Ribs without Smoke or Fire
Sous-Vide
Bio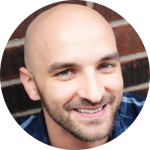 A Sunshine State native, Matt Mawhinney is the Community Manager for LaunchCode South Florida, a non-profit that helps people from non-traditional technology education backgrounds start careers in tech. Matt is also an alumni of Wyncode, Florida's first accredited web development bootcamp and is actively involved in South Florida's technology, entrepreneurial, and creative communities. In his spare time, Matt likes to cook, travel, and do improv comedy–if people in the audience promise they will laugh. You can follow him on Twitter @TweetsbyMatt and on Instagram @GramsbyMatt.