This episode begins with Luis sharing the story of wow he met his wife when he was asked to replace her work computer. Richie asks about what Luis is pivoting his career. Luis then tells us how he got into working with SQL Server and BI. Afterwards, he discusses getting into Data Science and Machine Learning. Luis defines Data Science and Machine Learning for our listeners. Cecil ask how big is big data. Luis talks about building his confidence to where he's able to speak publicly about his new found knowledge of Data Science. Luis talks about sharing his learning plan and progress with his wife. Richie asks Luis about differences he's noticed between living in South Florida versus Atlanta. We then talk about various attractions we've visited in the Atlanta area.
Links
World of Coke
Georgia Aquarium
The R Programming Language
The Python Programming Language
Bio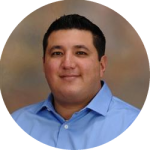 Luis Figueroa is Solution Architect with BlueGranite and Microsoft V-TSP. Luis is focused on delivering business solutions that leverage the Microsoft BI ecosystem of products. His area of expertise is Data Warehousing and Business Intelligence. With 10+ years of experience in the field, Luis has delivered data management solutions for companies across many industry verticals. Luis is also a contributor to many local user groups as well as the PASS Data Science Virtual Chapter.