Away From The Keyboard is a podcast that talks to technologists and tells their stories. Stories about how they started, how they grew, how they learned, and how they unwind. It's hosted by Cecil Phillip and Richie Rump and new episodes are released every Tuesday.
Hosts
Cecil Phillip is a Software Developer from South Florida with many years of experience building applications on the .NET Framework. Throughout his career, his primary focus has been providing web and service based solutions for various markets. Cecil's current tool-set of choice comprises of C#, ASP.NET MVC, ASP.NET Web API, jQuery, KnockoutJS, Entity Framework, XUnit and FakeItEasy. He has a passion for software architecture, interoperability, and testing. Cecil also enjoys experimenting with different programming platforms such as Python, PowerShell, and NodeJS. You can follow Cecil on Twitter via @cecilphillip.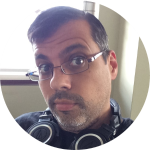 Richie Rump is a software developer, data architect and project manager. Richie is a principal consultant with Jorriss LLC where he helps companies solve their data challenges using SQL Server and .Net. Richie also developed http://statisticsparser.com and sp_DataProfile two tools that help data professionals tune SQL Server. He holds the Project Management Professional (PMP) and Certified Scrum Master (CSM) certifications as well as certifications in various Microsoft development technologies. Richie is also the founder of the dotNet Miami, a community focused on enterprise development with .NET and SQL Server. His previous experience includes working with Burger King, Florida Power and Light, Ryder, Subway and Walt Disney World. Richie is a graduate of the University of Miami where he received a Business degree in Computer Information Systems. He can be found on Twitter at @Jorriss or at http://jorriss.net.