David starts us with telling us about his Southern Twang and falling involve with the city of Nashville. He talks about the music scene and playing  gigs in the area. David talks about playing in a band. We then get into a discussion on the relationship between music and developers. Cecil asks about the types of music that he listens too.
Next we start getting into David's programming history. He then goes to journey through various careers before landing on programming.  We then discuss David's experience speaking at conferences. David also shares with us how hand drawing supercharged his presentations.
Links
Bio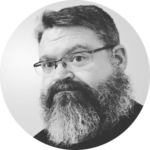 David is a husband, father of 5 boys, geek, musician, motorcyclist, speaker, software developer, and Microsoft MVP living in North GA. He spent several years building high-performance, scalable social media applications, and currently works at LeanKit as a Developer Advocate. David runs on a high-octane mixture of caffeine and bacon.