This episode starts off with Kathleen telling us a little about her history being a Microsoft MVP, traveling, and her C# workshops. We then get into a discussion on where her passion for community comes from. She talks about the programming languages she's learned over the years, and even talks about programming with Clipper. Kathleen also shares with us how she's been able to stay relevant in her career.
We then get to hear about the lineage of programmers in Kathleen's family. She also talks a bit about the Turing School for programmers and how her younger son's reviews pull requests for homework. Moving forward Kathleen talks to us about her workshops, teaching techniques and going to conferences.
Kathleen also gives us a fun description of the Winter season in Denver, Colorado.
Links
Bio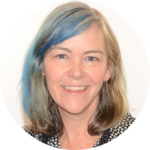 Kathleen Dollard loves to code and loves to talk about code. Along the way she's an architect, a "manager", a teacher, a writer, a speaker, and hopefully still a fun person! She's written tons of articles, a book, and spoken around the world. She's the Director of Engineering for ROI Code, previously Real and has videos in both the Pluralsight and WintellectNow libraries.