Dmitry introduces himself as a software developer and a gamer. He also describes his role in putting on the massive Build conference. Cecil asks Dmitry what's it like working for the "new Microsoft". Dmitry shares about what his position as a Product Manager is like and how he produces videos for Microsoft. Richie asks Dmitry what is the difference between a program manager and a product manager. Dmitry shares how he was able to keep evolving and progressing in his career. Richie asks Dmitry how Visual Studio Code came to be. The panel discuss video games and how playing games can be a communal activity.
Links
Tech Night at the Ballpark
Visual Studio 2015
Build Conference
Connect Event
Visual Studio YouTube
Visual Studio Code
Visual Studio Community Edition
Star Wars: The Old Republic
Bio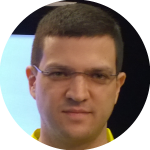 Dmitry Lyalin has been building software for 16+ years and has worked in various industries including payroll, education, banking, media and more recently Microsoft Consulting & Premier Support. Currently Dmitry works as a Product Manager for Visual Studio team out of Redmond, where he moved to from NYC a few years back. In his spare time Dmitry loves building mobile apps, cloud services and is a very dedicated PC gamer.