In this episode, we start off with James telling us about his love for music. James gets into how he got into hip-hop and how he listens to albums. Cecil and James talk about what type of music they put on to help to get in the zone. They talk about making playlists and whats wrong with the top charts lists. The discussion the moves into how albums are composed and being able to enjoy the entire body of work.
The conversation quickly moves into how we set priorities and how those priorities change over time. James reminds us how important it is to put our devices down and connect with the world around us. We also briefly discuss the pros and cons of being in time where we're more connected than ever before.
Cecil asks James about cycling and not having a car. James tells us the story of how he started getting in better shape and what got him into cycling. We end off with James talking about his most memorable traveling experience.
Links
Bio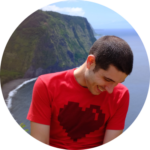 James Montemagno is a Developer Evangelist at Xamarin. He has been a .NET developer since 2005 working in a wide range of industries and before joining Xamarin was a professional mobile developer and has now been developing with the Xamarin platform since 2011.