Cecil asks Joel about the beginnings of ONETUG (Orlando .NET User Group). Joel tells us how the group got started with his curiosity in the .NET Framework and how the community stepped up to help out. Cecil asks how was Joel able to rally the community prior to the advent of popular social networks. Joel talks about he leveraged contacts, mailing lists, UCF and more to grow the group.
Joel then goes in the how being involved has helped his career and made him much more knowledgeable about aspects of .NET. Cecil asks Joel if his networking helped in guiding him to become an author. Joel tells us about how his mentor, Ray West, got him into writing.
Cecil asks what technology has got Joel exited right now. We get into a discussion about the Maker movement and IoT. We then get into a discussion on fitness as Joel talks to us about boxing and breaking through mental barriers. Joel makes sure to warn his kids to be prepared for the zombie apocalypse. We then get into a discussion about working remote for Xamarin.
Links
Bio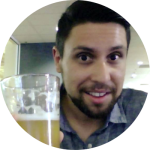 Software Engineer at Xamarin. He is the founder of the Orlando .NET User Group, and an author of several books. Joel is also a functional programming enthusiast. Joel is excited about  data science, machine learning, the simplification of hardware, hacking, and connectivity. More on Twitter @joelmartinez and his blog at codecube.net.