Brian starts out with telling us about how his love for computing begin with his first Atari computer. He then talks to us about the various jobs he has before starting Kairos. Cecil ask Brian as what moment did he know it was the right time for him the launch a startup. Brian talks about Kairos, the problems they're trying to solve and their vision for the future. Cecil ask Brian to share some of the interesting ways customers are making use of their APIs.
Brian used to work for Apple during the Jobs era. Cecil asks Brian what he learned about business from being around Steve Jobs. We then get into a discussion about why Brian decided to make Miami the home for his company. Brian gives us a run down on why Florida is a great place for startups.
Links
Bio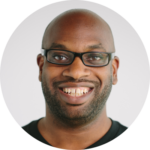 Brian Brackeen is founder & CEO of Kairos, a Miami based Human Analytics platform providing face recognition and emotion analysis to businesses with developer friendly APIs and SDKs. Kairos is an Endeavor company, and currently services more than ten thousand clients in 70 countries — processing millions of faces each month. Prior to founding Kairos, Brian served as a Senior Project Manager for Apple Inc., and before Apple he was a Senior Managing Consultant for IBM.
In addition to his work at Kairos, Brian lectures extensively around the world on entrepreneurship, code, digital economy, AI and machine learning— and participates in mentorship programs for organizations like Girls Who Code, Black Girls Code and School District of Miami Dade County.