In this episode we're excited to have Michael Kennedy on the show. We start off with Michael telling us how he got into working with Python. We then get into some popular examples of Python usage, such as Dropbox, YouTube and more. Cecil asks Micheal about getting into podcasting and what keeps him going. We also share with Michael some of our motivations for our own podcast. Micheal also share some of his favorite podcasts with us.
We ask Michael bout creating online courses, his very successful Kickstarter, and we also get into his future projects. The discussion then goes into the topic of the "computer science" in the education system and what is the difference between computer science and computer literacy? Finally, we end the show with Michael telling us about his latest adventure of living in Germany for a year!
Links
Bio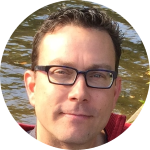 Michael Kennedy is the creator and host of the Talk Python To Me podcast and founder of Talk Python Training an online training company for Python developers. He is also an author, an instructor, and conference speaker. While working at DevelopMentor, he has taught over 100 week-long training courses to professional software development teams throughout the world. Follow him on twitter via @mkennedy.